Website Portfolio
Showcasing a few of the latest websites we've worked on for a wide variety of clients. 
QUAIL COVEY FARM 
ANGUS GRASS-FED BEEF
Located in on the Eastern Shore in Queen Anne, Maryland this small family farm had everything else taken care of but a website.  They do a great job at what they do so word of mouth marketing is off the charts.  However, they were always asked if they had a website to view a little more about their company! They requested a simple landing page with a photo gallery, some information about their farm and a way for new customers to find them and contact them.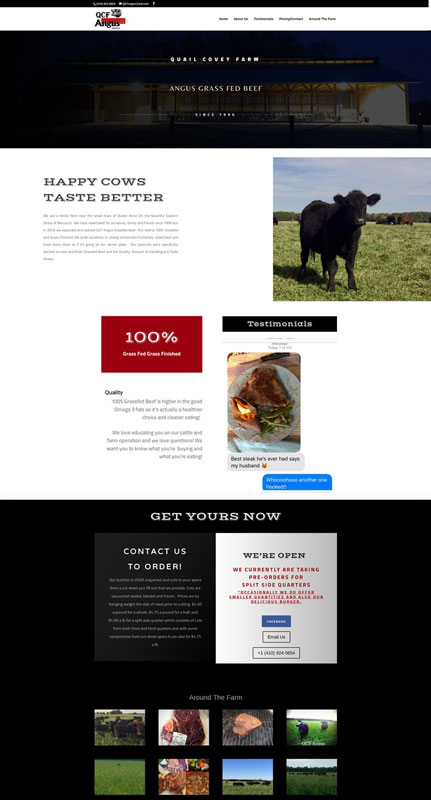 Located in Marion County Ohio, Justin Bentley is one of the finest arborists around.  His team is professional and takes care of your property as if it were theirs.  He had a successful Facebook page but needed a little more which is where we came in.  We provided a simple webpage set up for Search Engine Optimization (SEO) and eventually Search Engine Marketing (SEM).  As always if you do an exceptional
job, people will recommend your services, and that is what Bentley's Tree Service is about!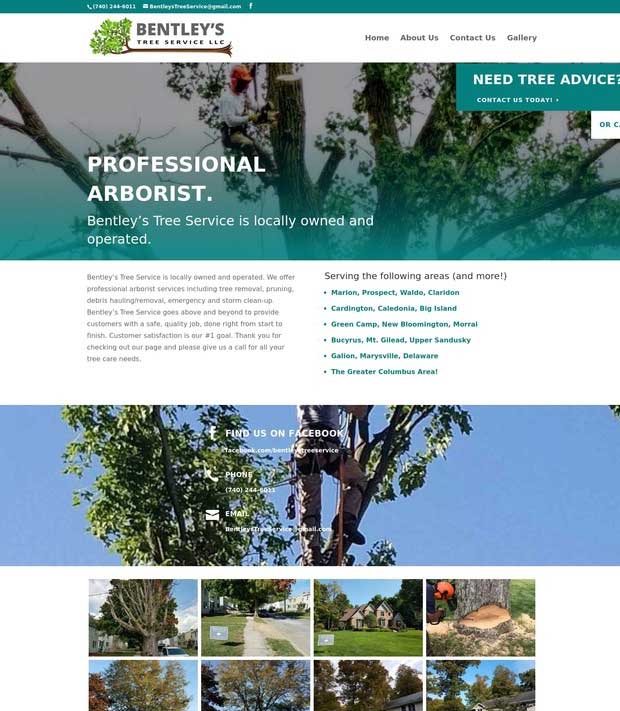 A Church Alive is worth the drive
Hurricane First Church of the Nazarene
Hurricane Naz is a friendly loving traditional Nazarene Church in the heart of West Virginia.  Church webpages are always more in-depth with many moving pieces.  You want to get the information out to your members, but you also want to get the best info for your visitors and first-time guests.  With this site, we have tried to do that too with clarity by delivering the full site's structure on the front page.
Make your move Stress-Free, Sweat-Free and Affordable
3rd Generation Moving and Storage Corp. 
3rd Generation Moving is the premier moving company in Marion Ohio. This is a family-owned business and more importantly for us a Veteran-owned business.  They are highly professional, and care about your stuff as much as you do!  They have a great reputation in town and only needed an updated website with that is mobile-friendly. We delivered that and are working to make sure they stay at the top of
the Google Search Results for "Marion Ohio Movers"!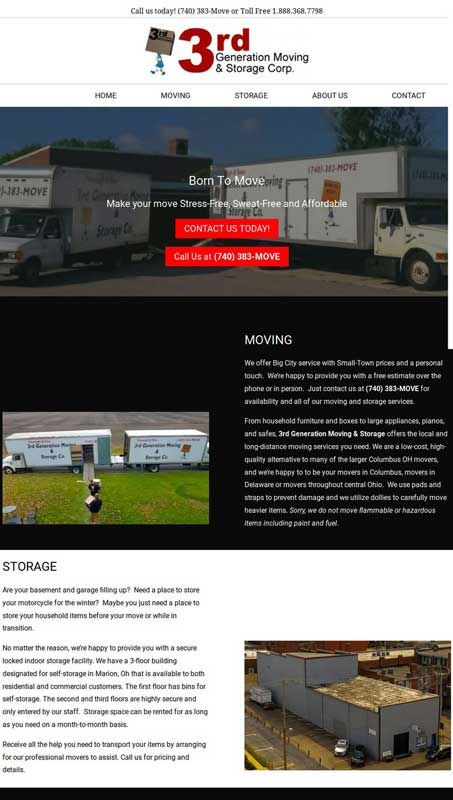 Nazarene Christian Preschool
Located in the Heart of the City in MarionNaz. The Nazarene Christian Preschool has been preparing children for Kindergarten for over 15 years!  They needed a simple website to disseminate information to parents, and also up and coming families for the new school years!  They are also the top spot on Google Places for "Marion Ohio Preschool"